Thai Chicken Pumpkin Curry and Sticky Rice with Mango
from Ann Fitzgerald, San Jose, CA
<![if !vml]>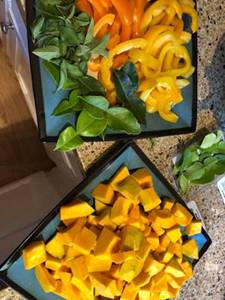 <![endif]> <![if !vml]>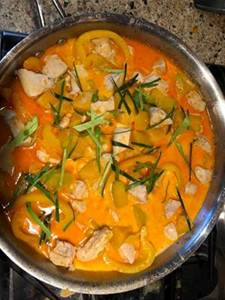 <![endif]>
Ingredients List
1 lb Chicken (I use organic boneless skinless chicken breast tenders)

1 Kabocha squash

4-5 other medium veggies (I usually use bell peppers, zucchini, carrots, etc. -- optional)

2-3 large cans of Mae Ploy Coconut Cream, more depending on the size of the kabocha and if you also want to make sticky rice with mango for dessert

1-2 Tbsp Mae Ploy Red Curry Paste

1/2-1 Tbsp Red Boat Fish Sauce (pure anchovy without chemicals)

2-3 Tbsp of veggie oil (I use coconut or sunflower -- avoid olive oil)

1/8-1/4 (palm sugar medallion) or about 1/2-1 Tbsp of palm sugar (you can use more if you like sweeter curry or just stick with kabocha, which is pretty sweet)

4-6 fresh Kaffir lime leaves julienned (remove stem, edges if thick, and any other larger fibers and cut into small strips)- you can find them at Whole Foods in the Bay Area

Thai basil leaves (chopped or whole to add at the very end

3-4 cups of rice for serving (I use basmati, but you can replace with whatever you prefer, and even riced cauliflower)
Directions:
1. Peel, clean, and chop the meat of 1 Kabocha squash into ~ 1 inch cubes
2. Peel and clean all other vegetables and chop into strips or ~1 inch pieces
3. Cut chicken (or veggie substitute) into smaller cubes
4. In a wok, sauce pan, or large heavy bottomed pot heat oil
5. Add curry paste and heat for 30 seconds
6. Add chicken and brown mixing it around so that it gets coated with curry paste (medium-high to high heat for a few minutes)
7. Pour half of one can of coconut cream over the meat, reserving the rest, and mix to dissolve curry)
8. Bring to a boil
9. Add fish sauce and mix (I tend to go conservative with it 1/2 T, but you can put 1T)
10. Add kabocha and more coconut cream and cook for 5 minutes or so
11. Add palm sugar and mash to dissolve (or crush before putting it in the pot- either way works great) about 5 minutes
12. Add the rest of the coconut cream and Kaffir lime leaves
13. Bring to a boil and reduce heat to simmer
14. Pile on other veggies on top
15. Cover and cook for 10-15 minutes or until veggies are soft and chicken meat is well done (I've left it for closer to 30 with no issues so don't worry about overcooking).
16. When almost done add Thai basil (last couple of minutes)
With the pumpkin, it's enough to feed 4 people (at least) or have meals for the whole week. If you want the curry to be less thick, you can also add water. I tend to like it as is, so I don't add any.
If you have left over rice or Thai sweet rice on hand and left over Mae Ploy coconut cream, I usually make "I Learned it from The Internet" fake sticky rice with mango for dessert!
1 cup of left over cooked basmati rice or cooked Thai sweet rice

2/3 cup Mae Ploy coconut cream

1/4 cup (or less) sugar

pinch of salt

Ripe Manila mango or frozen mango

Toasted sesame seeds (optional)